In Memorium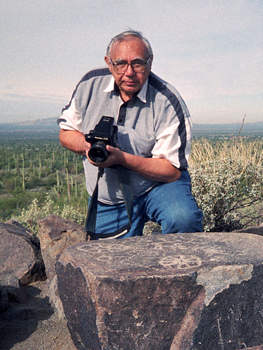 Nile Root 1926- 2004
"Teaching is leaving a vestige of oneself in the development of another. And surely the student is a bank, where you can deposit your most precious treasures." ~ Eugene P. Bertin
Nile Root, Professor Emeritus, Rochester Institute of Technology died April 2, 2004, after a long and courageous battle with cancer.
He served in the U. S. Navy during World War II as a Photographer's Mate, and for a year after the war, worked for FIAT (Field Investigation Agency, Technical) in Occupied Germany, as part of a team of photographers that were sent to German manufacturing and scientific sites to record on microfilm patents and other proprietary information for companies in the United States to use. Nile headed one such team. In Denver during the '50s, his camera store, Photography Workshop, served as a gallery for his own fine art photography and that of Minor White, Walter Chappell, Syl Labrot, and Arnold Gassan. During the '60s, Nile established and headed departments of medical photography and illustration in two Denver area hospitals.
He came to RIT in 1972, and soon thereafter assumed the Chairmanship of the Biomedical Photographic Communications Program at the school. While there, he shared his knowledge of, and love and enthusiasm for photography, leaving an indelible impression on countless graduates of the Biomed program.
"Nile was the best mentor, friend, and teacher anyone could ever hope to have," said one of his former students upon learning of his death. "Nile had a tremendous influence on me. Both his quest for, and his sharing of knowledge, taught me what it was to be a true professional," said another.
Nile retired from RIT in 1986 as Professor Emeritus and with the Award for Outstanding Teaching. He and his wife of 44 years, Abby, moved first to Nagasaki, Japan, where Abby taught English for two years, and then to Tucson, Arizona. There he continued to pursue his love for photography - photographing the beautiful and intriguing vistas of the American Southwest, and sharing these images at exhibitions and on his website www.niler.com.
Nile was a long-time member of the BPA/BCA. He gave numerous presentations at the annual meetings, and frequently exhibited his photographs in the professional salon, where his work won many awards. His last entry, Seagull (Larus Marinus), Hermosa Beach, CA., was no exception, winning a Citation of Merit in the 2003 exhibition. The photograph is featured on the cover of the Volume 29 No. 4 issue of this Journal.
Nile was a Registered Biological Photographer, a Fellow of the Association, and in 1986, was the recipient of the Louis Schmidt Award - BPA/BCA's highest honor. Abby Root calls these things the 'tangibles' of Nile's contributions. "The intangibles," she said, "are even more important - these were the friendships he made within the BPA and the delight he experienced, when his former students gave presentations at the annual meetings and won photographic awards."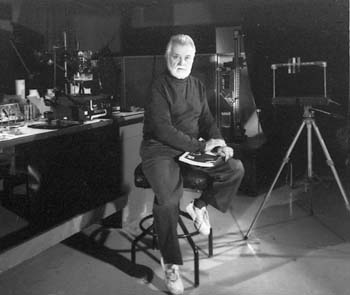 Leon J. LeBeau 1919-2004
Microbiologist and photographer Leon J. Le Beau worked on the frontiers of medicine in ways that ranged from peering through a microscope in Chicago, to jumping aboard government helicopters to fight a cholera epidemic in Thailand.
He taught microbiology, pathology and medical photography for 40 years at the University of Illinois College of Medicine, which has now become part of the University of Illinois at Chicago. He taught himself how to photograph germs through a microscope, often having to improvise the necessary equipment.
Leon was a passionate cook. When he had a heart attack at age 72 he became a disciple of Dr. Dean Ornish, who started the fat-free food movement for heart patients. Leon invented or revised his own recipes to get the fat out while keeping the flavor in.
Le Beau was born December 30, 1919, in Kankakee, the oldest of four children of Leo and Ellen Le Beau. His grandfather was one of a group of French-Canadian men who walked from Canada to Delaware to enlist in the Union Army during America's Civil War because they were appalled by slavery.
French was the language in their part of town, and it was the first language Leon learned to speak, although he switched to English when he was about four and the family moved north to Bellwood. He attended high school at the Divine Word Missionary seminary in Techny and was in his sophomore year at Elmhurst College when he enlisted in the Army during World War II.
He was sent to the South Pacific and served as a bacteriological technician in medical laboratories. At war's end he was sent to Japan with a public health unit.
Leon earned his bachelor's degree in bacteriology at the University of Illinois at Champaign in 1947, and his master's and Ph.D. in microbiology in 1949 and 1952 respectively at the University of Illinois Medical School in Chicago.
He began a 40-year career at the medical school in Chicago in 1947, working his way up from graduate teaching assistant to instructor and assistant, associate and full professor of microbiology, pathology and medical photography. At various times he was associate dean of international programs, headed the pathology, photography and illustration services, and for 15 years was head of the microbiology laboratories.
From 1963 to 1967 he worked in Thailand, helping set up programs at Chiang Mai University. When an epidemic of cholera swept Northern Thailand, he rode U.S. military helicopters to remote areas seeking out the polluted wells that were spreading the disease, and then worked on a major immunization program among the northern hill tribes. He made lifelong friendships, and while there, often entertained visitors from Thailand in Chicago. He returned to Thailand in 1987, while on an international teaching trip.
Leon had many hobbies, including carpentry, woodworking, photography and cooking. "He threw himself into everything he did with gusto and enthusiasm," daughter Marda Le Beau said. "He was enthralled by technology, and he wasn't afraid of change," said granddaughter, Emilie Le Beau. "He was really amazing on the computer. If I had a computer problem I would call my 84-year-old grandfather to help me a lot of the time."
Leon drew upon the discipline of his scientific background and experiences and applied them to his special area of photography. He became well regarded for his expertise in photographing small objects, constantly modifying and custom building his own equipment, blending his love for science and photography. He published extensively in journals and presented his work at meetings of various professional associations. Much of his work is used as a reference and benchmark for quality images still today.
Leon was a perennial fixture at BPA/BCA annual meetings and other meetings throughout North America, a long-time faculty member of the Rochester Workshop, and a guest lecturer to students at the Rochester Institute of Technology. He also facilitated many advanced workshops for colleagues in other associations. When visiting Toronto, he would prefer to stay at someone's home because it gave him more time to spend with people. His positive outlook, enthusiasm, and curiosity were contagious. He was quick to support and compliment you on your work. Daughter Michele said that when she reflected on his life, many of his happiest moments revolved around the activities of BCA and his interactions with it's members. He served as President of the BPA, was a Fellow of the Association and a recipient of the Louis Schmidt Award, BCA's highest honor.
LeBeau passed away at La Grange Memorial Hospital, after suffering an apparent heart attack. Leon had been on his way from his Indian Head Park home to buy a new tape player for the recorded books he listened to constantly. Leon was 84.
He is survived by his wife, Diane; four daughters, Marda Le Beau, Francine Ostrander, Denise Van Zeeland and Michelle Le Beau; a son, Joseph; three stepchildren, Amy and Jason Jones and Jennifer Williams; four grandchildren; and two great-grandchildren.