Gary Schnitz, CMI, FAMI
Chair, Journal Management Board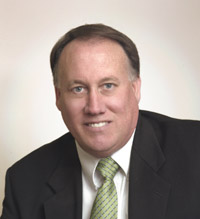 It was somewhat of a sad day when I finally conceded that my institution no longer needed Ektachrome slide film processing and traditional photographic printing. Although this occurred almost ten years ago, I still can remember my almost schizophrenic desire at that time to hold on to the past methodologies, and move forward with newer technology at the same time.
As I began to embrace high-resolution digital cameras, scanners, Wacom tablets, and Epson photographic printers, my biomedical communication production involved fewer and fewer traditional or "wet" photographic processes. Sadly, my two large darkrooms had become mostly storage areas, instead of the full production areas they once had been. The decision to move forward to an e-biomed shop was both obvious and inevitable.
As a medical illustrator, I had easily transitioned to digital illustration media a few years prior to this. Photoshop, Illustrator, and Painter had positioned themselves well in my illustration work, replacing traditional pigmented media techniques. Yet, my unit's longstanding photographic methods and equipment had somehow lingered on.
The Hope E-6 slide film processor had been a wonderful machine, allowing six rolls of 35mm slide film to be loaded and processed simultaneously. This processor handled short half-rolls, 100-foot bulk rolls, and even 4 x 5 (and larger) Ektachrome sheet film with ease… all dry to dry in one hour. I had spec'ed, purchased, and installed this equipment in the late-eighties, and sadly now it was headed to the local metal reclamation company. The equipment had aged in dog years it seemed.
My Ilford continuous tone print processor had been a blessing as well, churning out 5 x 7 glossies ever so effortlessly. This equipment produced high quality prints with a constant, repeatable, and standardized development. I was able to produce beautiful, detailed black and white clinical prints that even Ansel Adams himself would have been proud of. Well, OK, he may not have liked the limited archival quality (or the subject matter for that matter).
The 4 x 5 Sinar view camera and Hassleblad systems had seen their day as well. While I still have these cameras and worship their marvelous engineering, I sadly have not used either in almost three years. They have become antiques more for the purpose of admiring, than for using. Instead, I now use the Nikon D2Xs digital camera system and accompanying Macro Flash units for both clinical and surgical photography. What an amazing system this is! Imagine 12.4 megapixels via Nikon's DX CMOS sensor, providing both high image quality and high-speed performance at up to 5 frames per second should I ever need it…. which by the way I haven't.
A few years ago I donated my Badger air compressor and airbrushes to a local art school. Adobe Photoshop is now the tool of choice. No more frisket (and finger) cutting, no more paint in my lap, no water on the floor, and no clogged color cups. I now create layered medical and surgical illustrations that are the envy of Walt Disney Company, Pixar Studios, and Norvartis combined. Well, OK, …I can dream, can't I?
Video technology has perhaps undergone the biggest change for all of us. The equipment that once occupied an entire room (or two), is now mostly contained in our desktop Mac-based video systems. The old three-tube video cameras and three-quarter inch VU-Matic tape decks that we used in surgery a few short years ago, have been replaced with small digital camcorders and a few Mini DV tapes.
In short, I have transitioned from paint to pixels in every sense of the word(s). I no longer have to worry about loading film into copy-stand cameras, those film recorder hic-cups, out-of-date slide chemistry, miss-cut slides, a jammed slide mounter, or broken Carousel slide trays. Those over-nighted word slides to the West Coast have now been replaced by our physicians remotely logging onto our server, searching our digital database for clinical images, and then creating their own Power Point presentation while in their San Diego hotel room. In addition, illustrations and other images for that important orthopaedic presentation can be emailed to just about any destination in the world (even to cruise ships…. trust me on that one).
It is truly a new paradigm now for all of us. Our institutions, universities, private companies, entrepreneurial shops, and free-lance businesses have moved towards an on-demand philosophy and "immediacy" all across the board. Our libraries, research facilities, administrative and marketing offices, patient care clinics, and our biomedical communication services must transition to this new client mindset. Two-week turnarounds in a biomed unit are a distant thing of the past, and we all must take advantage of technology to become better and more efficient at what we do. We must promote a dynamic, yet economical, workflow in our biomed units that is both customer-driven and customer-focused.
Clear communication standards have emerged for us during these last few years, and most have now stood the test of time - Excel spreadsheets, Power Point presentations, Word files, Adobe Photoshop, Adobe Illustrator, jpegs, tiffs, CD-ROM, DVD, XML, HTML, Windows Media Video, QuickTime Video, and especially PDFs. Accept these as digital gold standards, and your work life will benefit. These powerful tools, formats, and media are vitally important for our biocommunication work today, and for purposes not yet conceived of as electronic delivery methods continue to proliferate.
Remember that we are all storytellers. This fact crosses all of our association lines, and binds us together as biocommunicators. New digital tools can only make us better at what we do.
Author
Gary Schnitz
Email: gschnitz@indianahandcenter.com