Eugene McDermott RBP, FBPA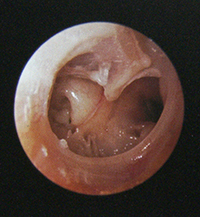 Large crescent-shaped perforation (right ear). From "Videolaryngos-
copy Using a Low Cost Camera," by Eiji Yanagisawa.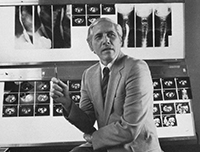 Hands are always a strong compositional element and can tell us something about the subject's character. The physician was asked to talk with his hands to a co-worker standing off camera. The radiographs provide a simple, but graphically strong background. Tri-X, 35 mm lens, main light to right of camera, fill light to the left. From "Portraiture On Location," by Jane E. Freund.
Volume 52 Number 2 was an interesting issue with a focus on looking inside the human body i.e. the nose, the ear and various body cavities using film and video. The first three articles, "Videolaryngoscopy Using a Low Cost Camera," "Endoscopic Cinematography" and "Endoscopic Photography of the Ear" were nicely rounded off with an annotated bibliography of endoscopy, added by guest editor, Barbara Katzenberg. Jeffrey C. Ceppull's article "Purchasing a computer Graphics System" makes the reader aware of the infiltration of the computer into media production facilities. He warns us that care must be taken in selecting a system that could costs up to $20,000. His comments about research, taking your time and the value of checking out the company apply as much today and they did 25 years ago. The photographs in Jane E. Freund's article, "Portraiture On Location," are very good images. I really appreciated how she outlines the steps she takes to relax the subject by telling them who she is, what she will be doing, listening to the subject and asking for, and giving a time commitment. Finally, Carmin Cristofaro's Technote, "In Praise of copying with polarized light," is a good straightforward technical presentation. This Technote was the result of Carmin's preparation for certification as a Registered Biological Photographer that he had recently completed. We forget what a resource the certification program was for written papers as well as oral presentations at annual meetings.
---
Eugene McDermott RBP, FBPA, is retired in Surprise, Arizona after a long career in Medical Photography. He enjoys digital photography and especially being able to make 13 by 19 color prints without a darkroom or chemicals. He has an opportunity to do some teaching with the Life Long Learning Center, but his greatest joy is his visits with his eleven grandchildren.tomred@cox.net