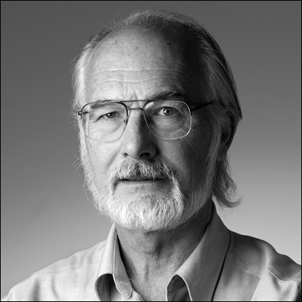 Professor Andy Davidhazy has enjoyed a distinguished career as an educator, photographer, writer, inventor and imaging consultant for more than 50 years. He has served as Chair and Professor of the Imaging and Photographic Technology department at the Rochester Institute of Technology (RIT) since 1988.
Davidhazy came to RIT as a student in 1961. He says the reason for his coming to, and remaining in Rochester, was the School of Photographic Arts and Sciences. "Princeton offered a sports scholarship, and I played soccer at that time, but RIT offered a Photographic Science Program."
He had heard of MIT's Dr. Harold (Doc) Edgerton of electronic flash fame, visited his 'Strobe Alley' and was impressed by the photographs and the man. "I only spoke with him briefly about some problems I had with making pictures of fast-moving subjects, but I saw the connection between science and photography and it interested me," Davidhazy says. "Ultimately my brief encounter with 'Doc' was probably responsible for my choosing photography…….. and RIT." He earned a Master of Fine Arts degree from RIT in June of 1968; his thesis project explored Streak Photography and Future Display Techniques and laid the groundwork for much of his life's work, examples of which are shown on this page. He also earned Associate in Applied Science and Bachelor of Fine Arts degrees in Photographic Science and Photographic Illustration respectively from RIT as well.
Davidhazy's work has been featured in hundreds of solo and group exhibitions worldwide, in thousands of books, magazines and other printed works, and he has been actively lecturing and publishing over the course of his entire career.
His activities, accomplishments and accolades are numerous. They include: The 1992 inaugural Kodak Visiting Professor to the Royal Melbourne Institute of Technology in Australia sponsored by the Eastman Kodak Company, a 1988 guest instructor at The Institute for Photography of the University of Götenberg, Sweden in 1986, the recipient of a $43,000 Hasselblad Foundation award to support and improve the scope of instruction in the photo-instrumentation through the purchase of High Speed Video equipment, and in 1986 he received a grant of High Speed Video equipment from the Spin Physics group of Eastman Kodak Company.
In 1988, Davidhazy was selected as one of the RIT's Eisenhart Award winners presented for outstanding teaching and innovation in the classroom. He was awarded the Fellowship of the Society for Imaging Science and Technology for outstanding achievement in imaging science and engineering in 2001, and in May 1990 he received the Professor Raymond C. Bowman Award from the Society for Imaging Science and Technology. He also received Awards of Distinction as an Associate from the Royal Photographic Society in 1968 and the Photographic Society of America in 1985.
In 1978, he collaborated with Drs. Leslie Stroebel and Ronald Francis from RIT to further look at the assassination footage of President Kennedy for the House Select Committee investigating the assassination. He has been a consultant in Photographic Instrumentation for the National Aeronautics and Space Administration, Mobil Chemical Corp., International Telephone and Telegraph, Eastman Kodak Co., and countless other companies and governmental agencies.
He is a charter member of the International Association of Panoramic Photographers, a member of the Society of Photographic Scientists and Engineers, past counselor and chair of the Rochester Chapter Education Committee, a member of SPIE, the International Society for Optical Engineering and of the High Speed Photography, Videography and Photonics Working Group within SPIE and the RIT liaison to the Rochester Photo Historical Society Board of Directors
Professor Davidhazy has educated and inspired several generations of students. He is dedicated to his students' creative and professional development, and has played a major role in preparing them for successful careers as leaders in their respective fields of photography and imaging.
For more about Andy Davidhazy visit http://people.rit.edu/andpph/