Welcome to our latest issue of the Journal of Biocommunication, a visual celebration of the profession of biomedical communication.

As I assume my new role as Chair of the Journal Management Board, I am reminded that it is you, our readers and subscribers, who continue to shape and mold the JBC. Our Journal has become a dynamic online educational product. It is a true synthesis of the articles, ideas, concepts, images, and media from the memberships of the ABCD, AIMBI, AMI, BCA, and HeSCA. These five organizations are committed to empowering their members through the JBC. I want to personally thank the leaderships of these organizations for being a part of the JBC's success through the years.

This issue features "Integrating Instructional Interactivity in a 2-D Animated Learning Environment to Enhance its Educative Value: An Online Pharmacogenetics Course for Practicing Pharmacists" by Michelle Lui, et al. Also included is the article "The Instructional System Design Model: A Framework for Development of a Web-based Program" by Maria Bishop, et al. Please review these well-written and timely papers.

Our 32-3 Gallery showcases the award-wining illustrations from the Association of Medical Illustrators' 2006 Annual Meeting Salon. This annual competition gives recognition to the award-winning medical and scientific illustrations that are produced in both traditional and digital art methods. Also included are members' winning entries from Interactive Media, Animation, Three-Dimensional, and Book categories. In total, there are fifty-three winning entries featured in our Gallery for your review.

As the Journal continues to evolve, we hope to present new and expanded sections showcasing animations and other biomedical media. We anticipate that more and more scholarly communication, research, and investigation will move to an electronic form, and that online publishing will continue to connect people to the information they want. The JBC has embraced new media with our transition to an online only format, and we are positioned for a bright future. The Journal is driven by great academic content, and we encourage those members to submit relevant papers to your Association Editor or the JBC Managing Editor.

Because of new National Library of Medicine guidelines, our downloadable PDFs now must have their page numbers preceded by the letter "E." This is particularly important to PubMed and other on-line users, who now readily associate the letter "E" with the special class of journals that are on-line only. The JBC provides these PDFs as a courtesy to our viewers to allow for consistent printing and referencing of our Journal's scholarly material. We also are including page-numbered PDFs for each issue's Title/Contents Page, as well as a PDF for the Publisher's Comments. For those readers who may print the Journal's PDFs, these introductory pages are numbered sequentially (also using the letter "E" as described above), and will help serve to historically identify each issue and its contents.

As JBC Board Chair, I would like to personally thank outgoing Chair, Bob Turner, for his excellent leadership, vision, and friendship during these past few years. Bob navigated the Journal through a transition period, as we migrated from traditional printing to an online only publishing format. The Journal not only survived this transition and the selection of new service providers, but it also has blossomed to become a dynamic visual showcase for our five associations. Thanks again, Bob, for a job extremely well done.

As I conclude this Publisher's Comments, I am reminded of a quote by Canadian Wayne Gretzky, the great professional hockey player. Once when asked about his great skill and tremendous success on the ice, Gretzky stated, "I skate to where the hockey puck is going … not where it currently is."

We hope to guide your Journal in this dynamic world of new media with the same vision that Gretzky had. Let us know how we're doing.

Sincerely,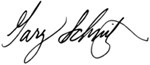 Gary Schnitz, CMI, FAMI
Chair, JBC Management Board
gschnitz@indianahandcenter.com
---
The JOURNAL OF BIOCOMMUNICATION (J.Biocommun) is indexed in Index Medicus, Current Index in Journals in Education, Biological Abstracts - RRM (Reports, Reviews, Meetings), Hospital Literature, Dental Abstracts and Middle East: Abstracts and Index. ISSN: US0094-2499.

Produced in the U.S.A. and © 2003-2007 by The Journal of Biocommunication, Inc. All rights reserved. This publication is supported by members' and public subscriptions and is published online three times each year; a compendium issue is printed once each year.
THE JOURNAL OF BIOCOMMUNICATION is available to all paid members of the ABCD, AIMBI, AMI, BCA, and HeSCA. Other individuals and institutions are invited to subscribe: individuals at $60, libraries or institutions at $95, students at $50 per year.
Address subscription correspondence to:
Subscriptions: Nancy Hurtgen
JBC Business Manager
220 Southwind Lane
Hillsborough, NC 27278
919-245-0908, (fax) 919-245-0906
Direct editorial communications to respective association editors.
Managing Editor: Joe Ogrodnick
Entomology, NYS Ag. Experiment Station
Communications Services, NYSAES
632 W. North Street
Geneva, NY 14456
(315) 787-2324, fax (315) 787-2387
Association of Biomedical Communications Directors (ABCD) Editor: Manny Bekier
Biomedical Communications
SUNY Downstate Medical Center
450 Clarkson Avenue
Box 18
Brooklyn, NY 11203
(718) 270-7551, fax (718) 270-7549
Association of Medical Illustrators (AMI) Co-Editor: Gary Lees
The Johns Hopkins University, Art as Applied to Medicine
The Johns Hopkins School of Medicine
1830 E. Monument, St. Suite 7000
Baltimore, MD 21093
(410) 955-3213
Australian Institute of Medical and Biological Illustration (AIMBI) Editor: Julie Murray
Medici Graphics
St. Vincent's Hospital
Victoria St. Darlinghurst NSW 2010
Phone (02) 8382 2168
Fax (02) 8382 2560
Association of Medical Illustrators (AMI) Co-Editor: Mark Lefkowitz
Biomedical Visuals
132 Oak Hill Dr.
Sharon, MA, 02067
(781) 784-5293
BioCommunications Association (BCA) Editor:
Mark Marzolf
Media Services
Shriners Hospitals for Children
Fairfax Road at Virginia Street
Salt Lake City, UT 84103
(801) 536-3750
The Health and Sciences Communications Association (HeSCA) Editor: Lori Klein (HeSCA Editor)
Reference Department
National Library of Medicine
8600 Rockville Pike
Bethesda, MD 20894
Phone 301-435-4891
Fax 301-402-1384
Calendar and Association News Editor: Gary Schnitz
The Indiana Hand Center
P.O. Box 80434
8501 Harcourt Road
Indianapolis, IN 46280-0434
(317) 471-4446, fax (317) 471-4404
Management Board: Gary Schnitz, Chairman (The Indiana Hand Center) • Bob Turner (The Scripps Research Institute) • Connie Johansen (National Geospatial Intelligence Agency) • Gary Lees (The Johns Hopkins School of Medicine) • Lee Potts (Merck Research Laboratories) • Manny Bekier (SUNY Downstate Medical Center) • Gillian Duncan (Graphica Medica) • Julie Murray (Medici Graphics, NSW Australia
Webmaster: Michael Getz (Illumina Interactive, Boston, MA)
Editors: Each member association of The Journal of Biocommunication may select one Editor, whose responsibility it is to secure manuscript material and assure technical accuracy, validity, and usefulness of the Journal's content. Each Editor works with an Editorial Review Board selected by the sponsor association. Members of the Editorial Review Board critique and edit articles, and provide other editorial assistance, at the request of the Editor. The JBC accepts unsolicited materials for consideration. Unsolicited materials may be submitted to the Managing Editor or to any of the Association Editors for consideration. For more information, please see Contributors.
Editorial Review Board: Scott Barrows (Medical Art Associates) • Janis Brown (University of Southern California) • Susan G. Deihl (Virginia Commonwealth University) • Craig Gosling (Indiana University) • Christine Gralapp (Fairfax, Calif.) • Carol Asimow Gray (UCLA Medical Center) • Jamie Guth (World Health Organization) • Winifred Hamilton (Baylor College of Medicine) • Tom Hurtgen (Duke Clinical Research Institute) • Dale Kennedy (VA Medical Center - Albuquerque, New Mexico) • Lori J. Klein (National Library of Medicine) • Dale Knorr (Naval Medical Center, San Diego, Calif.) • Gregory Lucier (University of Calgary) • Patrick Lynch (Yale University) • Ken Michaels (National Cancer Institute) • Steven Moon (Ohio State University) • Darisse Paquette (Tufts-New England Medical Center) • Stephen Pendry (Mary Greeley Medical Center) • Michael Peres (Rochester Institute of Technology) • Sue Seif (Seif & Associates.) • Bobb Sleezer (Christiana Care Health Services) • Herbert R. Smith, Jr. (Houston, Tex.) • Keith Stenehjem (Mayville State University) • Bob Turner (The Scripps Research Institute) • Judy Tyler (National Student Nurses Association) • Susan Zimmerman (Wordcraft Communications)
Business Manager: Nancy Hurtgen
Production Group: Michael Getz (Illumina Interactive)