Whether it's following fringe-toed lizards across sand dunes in 115 degree heat or lighting moth pupae to look like jewels in the studio, Charles "Chip" Hedgcock is equally at home photographing in the studio or in the field.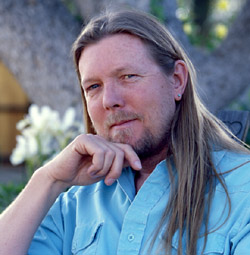 Charles "Chip" Hedgcock
A graduate of Brooks Institute of Photography and a Registered Biological Photographer, Hedgcock has studied under such notables as writer/educator Bill Jay and master printers/photographers John Sexton and Bruce Barnbaum.
Hedgcock's dexterity with a camera and his keen interest in natural history have led him on photography and research projects throughout the desert Southwest and Sonora, Mexico. His award winning photographs have appeared in an eclectic mix of publications including: Spin, Ranger Rick, BBC Wildlife, Outdoor Photographer and the Journal of Biological Photography.
Hedgcock is a member of the imaging team for Arizona Research Laboratories Division of Neurobiology at the University of Arizona, Tucson: www.neurobio.arizona.edu

For his personal black and white work, Hedgcock uses the classic tools of his trade; film and archivally processed silver gelatin prints. The subjects of his images are usually photographed in the studio where the controlled environment is better suited to capturing the luminous qualities of his subjects. All animals are photographed alive, moving about and interacting freely within the setting. After photography, they are released back into the environment.
Though Hedgcock has a great interest in natural history and the ecological roll these animals play in the environment, at the core, his elegantly composed images are simply about the beauty, grace and joy to be found in nature. Brooks Jensen, editor of Lens Work, said about his work: "Chip is to bugs what Weston was to peppers!"
More of Charles Hedgcock's work can be seen on the web on his personal web site: www.charleshedgcock.com