Eugene McDermott RBP, FBPA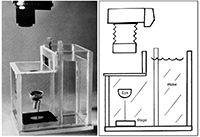 Photo and schematic of the Chimney Tank from "Techniques for Photography of Immersed Specimens," by Lloyd Kennedy.
Looking at this Issue (Volume 52 #3) provided me with a surprise. I, of all people, was the guest editor for this issue, and thinking back I remember Tom Hurtgen and others calling, and inviting me to take on this job and helping me every step of the way. When I accepted this task back then, I was asked to write a Guest Editorial and upon rereading it I realized that I had recently received an e-mail from Bob Turner urging members to write an article for the JBC or submit an idea for a paper at the annual meeting, which, was strikingly similar to what I had written 25 years ago, urging people to write for the Journal. I guess some things never change. The first article, written by Maria Schuchardt, "The Heart of Medical Photography," shows real insight into how we need to be so aware of the effects of our interaction with the patient while doing routine clinical photography. Maria cites the work of Kubler-Ross to illustrate how we need to be sensitive, caring and understanding whenever we have patient contact. Other articles included, "Photomacrography and the Programmable Calculator," by Gabriel Unda, "Techniques for Photography of Immersed Specimens," by Lloyd Kennedy, and "A Simple Method of Adding Half stops to a Micro-Nikkor Lens," by Steven Loomis. The final article authored by Martin Scott, "No Biocommunicator is an Island," strikes a very sharp blow at interdepartmental friction and reminds us that things are changing. DRG's (diagnostic related groups) will put a strain on the way hospitals will receive payments and this will cause them to look critically at how they allocate their resources. Are the services they are getting from the Media Centers worth the expenditures? Are the complaints of poor service and slow turnaround times (a week to get a blue diazo!) going to cause cutbacks and drive customers to do it themselves? Martin urges us to meet the demands of our clients. When they need it STAT get it done; that's the job. Take the unreasonable and make it reasonable. Martin urges us to a time of cooperation and closes with a Richard Byrne quote, "Do what you do best…do a lot of it."
.
---
Eugene McDermott RBP, FBPA, is retired in Surprise, Arizona after a long career in Medical Photography. He enjoys digital photography and especially being able to make 13 by 19 color prints without a darkroom or chemicals. He has an opportunity to do some teaching with the Life Long Learning Center, but his greatest joy is his visits with his eleven grandchildren. tomred@cox.net