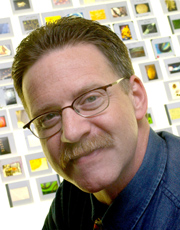 Michael Peres is the Chairman of the Biomedical Photographic Communications department at the Rochester Institute of Technology, a position he has held since 1989. He is also a Professor in the School of Photographic Arts & Sciences where he teaches, and specializes in photography with magnified imaging systems as well as bio-medical photography.
Peres has authored numerous publications, presented more than 100 oral papers and conducted more than 35 imaging-related workshops all over the United States as well as in Sweden, Tanzania, the Netherlands, Germany, and Australia. These workshops have included topics such as digital imaging using the light microscope and the production of QuickTime® VR movies.
He has been a member of the BioCommunications Association since 1978 and is currently a member of the Ophthalmic Photographers' Society. Some of his current activities include: his serving as the Chair of the Lennart Nilsson Award Nominating Committee, being one of the Co-Coordinators of the annual R•I•T Big Shot project as well as managing the Images from Science project.
In April 2003, he won one of the RIT Eisenhart outstanding faculty awards, an Award given for outstanding teaching at the University by the faculty. Michael holds a Master's Degree in Instructional Technology from RIT, and Bachelor's degrees in Biology and Biomedical Photographic Communications. He is also a Registered Biological Photographer.