Scriptor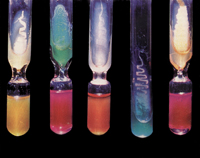 This photo is from an article entitled "Photography of Tubes and Their Contents Based on Image Requirements and tube Configuration" by LeBeau et al., JBPA, Vol. 48, No. 2. The photograph also appeared on the cover of that issue.
For those of you in the BCA who were fortunate enough to attend the Annual Meeting in Boston in 1980, you would have received a copy of the late H. Lou Gibson's "The Biological Photographic Association, its Half Century" from 1931 to 1950. This is a most enlightening, interesting, and indeed humorous monograph about the Association. I say humorous, because so many of the photographs depict young, enthusiastic, energetic and resourceful Medical Photographers – most of whom are now either not with us or in retirement. Take a look at the group photograph of the meeting in Baltimore in 1977 on page 86 of the JBC, Volume 48, # 2 – quite a crowd! Only part of Lou's book appears in this particular issue from pps 41 - 86, covering the years 1965 – 1980. The statistics quoted are also of great interest. One of these stats puts the salary range for a photographer under 29 years of age at a massive $8,000 - $9,999 per annum. Almost the entire issue is devoted to Lou's history of the Association, and should surely whet your appetites to read the whole thing. My copy is falling apart; it turns out that they were not particularly well bound.
The rest of the papers in this issue of the Journal contain a continuation of the late Dr. Leon LeBeau, Lynn M. Gambill, and James Woltjen's work on "Photography of tubes and their contents based on image requirements and tube configuration" pps 93 – 107. Once again Dr. LeBeau and his co-workers have shown ingenuity and patience to produce some startling results as demonstrated by then Editor Tom Hurtgen's choice for the cover of the issue. I wonder how much neater this paper would have been if the author had access to today's graphic programs?
The Final paper "Photographic interpretation of facial plastic and reconstructive surgery" pps 87-92, made me remember not to jump to conclusions! I was initially horrified by the illustrations – but on reading the text, there in italics, were the words " only improper photographic practices will be described here" What a relief, it surely points out all the pitfalls into which an inexperienced "photographer" can fall.
Scriptor
About the author:
With the passing of Peter Hansell, Ron Irvine picks up the pen to continue "25 Years ago in the Journal of Biological Photography" and writes under the pseudonym Scriptor. Irvine is a long-time member of BCA and IMI. He is a Registered Biological Photographer, Fellow of the BCA, and an honorary member of IMI. E-mail: rirvine3@cogeco.ca